The Public in West Bromwich -UK- have commissioned an exciting young British artist to produce a participatory installation for the ground floor of the gallery.
Naren Wilks is a Bristol based artist using the mediums of photography, film/video, and installation. His artwork has largely been concerned with using in-camera techniques to create people and places that do not actually exist, being interested in exploring the 'un-real.' He shuns the hyper-real effects of CGI animation and chooses instead to work with a low-fi, security camera aesthetic. Through this selection of mechanics over technology, the resulting effect actually seems far more real.
His installation, Collide-o-scope, is based on his short experimental video piece of the same name. The video combined the aesthetics of the silent comedy era with the latest in digital manipulation technology to create a playful and engaging spectacle. As visitors enter the specially constructed white room, multiple versions of themselves are replicated and made visible on the LCD screen. The fun and engaging piece of artwork, creates and exploits illusions in a unique and playful manner.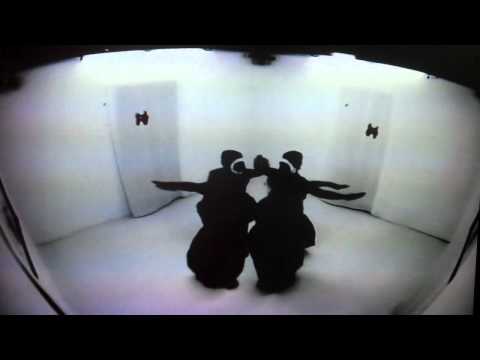 Without unveiling all the details, the installation is based on 4 live cameras and takes advantage of the real-time blending capabilities of the VJX16-4 video mixer, allowing to combine the 4 videos in real-time. The resulting video is made visible on two LCD screens, one mounted inside the room (for participants to view), and one outside the room (for non-participants to view).
In March a number of regionally based artists and performers will use the installation as a space to develop new work. The video above shows Bharatanatyam dancer, Devika Rao, performing in Collide-o-scope.
The installation is visible on the ground floor of The Public from 2 Feb to 31 Aug 2011 (Daily), and is free to visit. During the same period, you can also visit Screening 2011, an open exhibition for artists working in Film and Video, and Touch Interactive, the UK's first open exhibition for interactive artists.
The Public welcomes and supports young and emerging artists and provides them the opportunity to develop their practice, so make sure to check their website.